Online Exhibition: History of the Town Library
Lectures and entertainments
The Institute held many lectures every year. Lectures included: A course of eight lectures on Modern European history given by CH Pearson, fellow of Oriel College, Oxford, late Professor of Modern History, King's college London, 1871.
In 1866 the list of lectures included: "Ghosts, Faries and Witches" by the Rev M Macfie.
"Ocean Telegraphy" by Edmund Wheeler FRAS of London. [The library has several books on this subject, which was at the cutting edge of Victorian technology.]
"The Inscriptions on Mount Sinai" by The Rev Charles T Forster. [The library has several of his books; Biblical archaeology was a very popular subject at the time.]
"Some of the English authors of the 18th century" by The Rev John Gill.
"Love Courtship and Marriage" by the Rev N Haycroft.
Many people in the Town and surrounding villages wanted entertainment rather than lectures. The Institute needed money, so they started annual entertainment programmes in the winter months.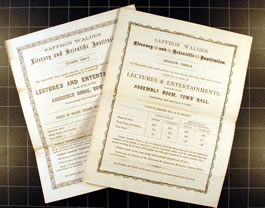 Lectures and entertainments [Institute archives G.6.b]

&nbsp &nbsp &nbsp &nbsp &nbsp &nbsp &nbsp &nbsp &nbsp &nbsp &nbsp