Forthcoming events
All events are held in Saffron Walden Library except where stated. There is no charge for admission and non-members are welcome. The Library has disabled access.
Thursday 26th May 2022 (not the 19th) at 8:00 pm in the Saffron Walden Library
The Empress and the English Doctor, a talk by Lucy Ward
"The Empress and the English Doctor", just named a Times/Sunday Times Best Book for 2022, reveals how Catherine the Great summoned an Essex-born Quaker doctor, Thomas Dimsdale, from England to St Petersburg in 1768 to inoculate her against the most brutal disease of the age: smallpox. Both empress and physician risked their lives, and forged a lifelong friendship.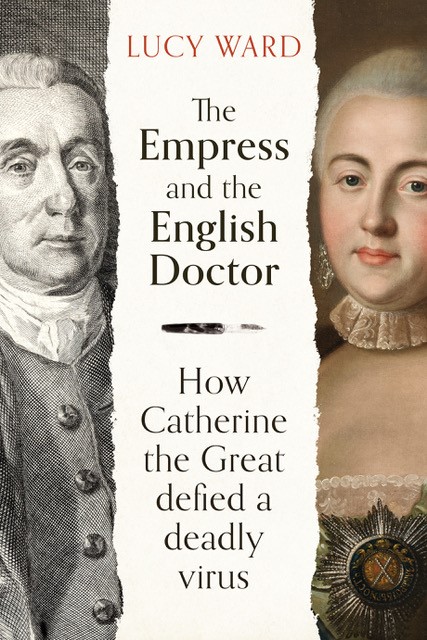 Lucy Ward's talk will reveal not only the thrilling story of the doctor's secret mission and Catherine's campaign to promote science over superstition, but will also highlight the landmark role of Essex in inoculation history. Come and enjoy a locally-linked story of truly international importance - with extraordinary resonances today.
Lucy Ward is a writer and former journalist for the Guardian and Independent. As a Westminster Lobby correspondent, she campaigned for greater women's representation. From 2010-12, she lived with her family in Moscow, renewing her interest in Russian history. After growing up in Manchester, she studied Early and Middle English at Balliol College, Oxford. She now lives in Saffron Walden.
Numbers for this meeting in the Library will be capped at 40. If you wish to reserve a place please email the Society at: gibsonlibrary1832@gmail.com.
If you reserve a place, but later find you are unable to attend, please let us know using this same email address. Reserved places will be held until 7:55 pm, after which the unfilled places will be allocated on a 'first-come first-served' basis.
Details for June and later meetings in 2022 will be available shortly.
When meetings are announced as being "via Zoom", GLS Members will be sent a Zoom invitation via the GLS email gibsonlibrary1832@gmail.com ; Members can also contact Peter Walker via the Library if they do not have email.
Follow us on Facebook and Twitter:


The events of the last 12 months
Wednesday 11th May 2022 at 7:30 pm in the Saffron Walden Library
39th Annual General Meeting
Details are held on the Society's 2022 AGM webpage.
Wednesday 20th April 2022 at 8:00 pm via Zoom
Working with Maps: The changing face of Ordnance Survey One inch maps of Essex, a talk by Peter Walker.
The Ordnance Survey's one inch scale printed maps have changed a lot since the first one in 1805, and in this illustrated talk we explored the evolution of design, symbols, covers and purposes of the maps.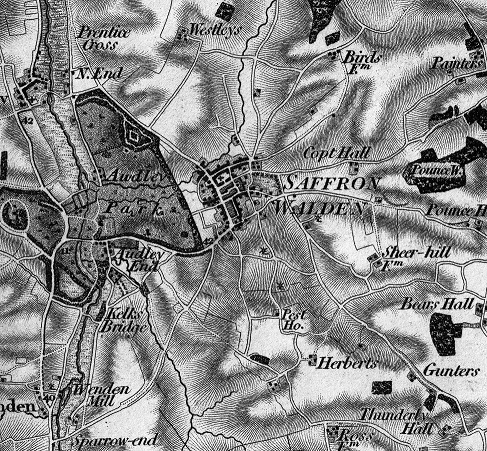 Peter Walker, the Treasurer of the Gibson Library Society, is a well known speaker on Essex maps, having studied them for 20 years and written Essex Record Offic's catalogue of printed maps.
Thursday 17th March 2022 at 8:00 pm via Zoom
The Match Girls and the Blue Plaques Scheme, a talk by Anna Eavis
The London Blue Plaques Scheme celebrates the links between notable figures of the past and the London buildings in which they lived and worked. Founded in 1866, and run by English Heritage since 1986, it has inspired many similar schemes in the UK and around the world. English Heritage installs a dozen new plaques each year, nominated by members of the public.
Anna talked about the history of the scheme and explored the lives and significance of some of those commemorated, including the young women who participated in the Match Girls Strike of 1888.
Anna Eavis is Curatorial Director of English Heritage and has responsibility for the English Heritage London Blue Plaques Scheme. Anna is a specialist in the history of medieval stained glass, lectures on this subject for the V&A and is a trustee of the Corpus Vitrearum Medii Aevi, a charity devoted to stained glass research. She is also a trustee of the Leeds Castle Foundation and serves on the fabric advisory committees at Salisbury and Canterbury cathedrals.
Thursday 17th February 2022 at 8:00 pm via Zoom
Isabel Alexander: an artist in South Wales and North-West Essex, an illustrated talk by Peter Wakelin and Robin Alexander
Slade-trained artist Isabel Alexander (1910-96) lived in Thaxted and Saffron Walden from 1949 to 1977 and taught art at Saffron Walden Teacher Training College while exhibiting regularly. Prior to this, she worked extensively in the mining valleys of South Wales, as celebrated in the new book Miner's Day, edited by Peter Wakelin.
In this live event, Peter will talked about her extraordinary contribution to the recording of mining people and places. He was joined by her son Robin Alexander to discuss her later life and work in north-west Essex, Yorkshire and Scotland.
Like many women artists of her generation, Isabel struggled for recognition, but in 2017 a major retrospective and Janet McKenzie's book Isabel Alexander re-ignited interest. The enthusiastic response to Peter's lavishly-illustrated book has accelerated this revival.
Peter Wakelin was formerly Secretary of the Royal Commission on the Ancient and Historical Monuments of Wales and writes on Welsh art and heritage.
Robin Alexander is Fellow of Wolfson College at Cambridge University and formerly Professor of Education at the universities of Leeds, Warwick and York.
Thursday 9th December 2021 at 8:00 pm via Zoom
The Library: a Fragile History - An illustrated talk by Andrew Pettegree and Arthur der Weduwen
Famed across the known world, jealously guarded by private collectors, built up over centuries, destroyed in a single day, ornamented with gold leaf and frescoes or filled with bean bags and children's drawings - the history of the library is rich, varied and stuffed full of incident.
In this presentation, Andrew Pettegree and Arthur der Weduwen discussed their beautifully illustrated new book, the first major history of its kind, which explores the contested and dramatic history of the library, from the famous collections of the ancient world to the embattled public resources we cherish today. Along the way, they introduced us to the antiquarians and philanthropists who shaped the world's great collections, trace the rise and fall of fashions and tastes, and reveal the high crimes and misdemeanours committed in pursuit of rare and valuable manuscripts.
Andrew Pettegree, FBA, is Professor of Modern History at the University of St Andrews and Director of the Universal Short Title Catalogue. He is the author of over a dozen books in the fields of Reformation history and the history of communication including Reformation and the Culture of Persuasion, The Book in the Renaissance, The Invention of News, and Brand Luther: 1517, Print and the Making of the Reformation.
Arthur der Weduwen is a British Academy Postdoctoral Fellow and Deputy Director of the Universal Short Title Catalogue project at St Andrews. The Library, a Fragile History is his fifth book
.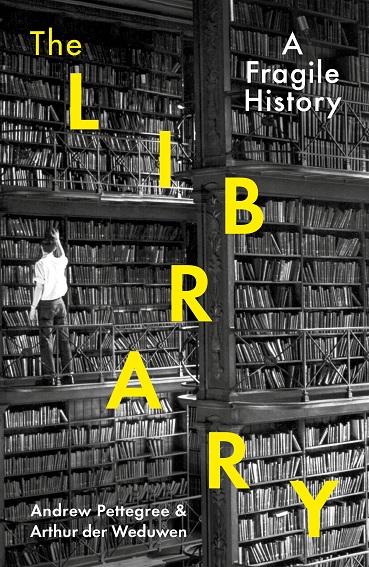 Thursday 14th October 2021 at 8:00 pm via Zoom
Out of the cage, the art of Isabel Rawsthorne - an illustrated talk by Carol Jacobi
Isabel Rawsthorne was hidden in plain sight - hundreds of likenesses in museums around the world kept her secrets. This talk revealed her daring life and the sixty years of art she made from it through the upheavals of the 20th century and original relationships with some of its most fascinating figures, including Jacob Epstein, Pablo Picasso, Alberto Giacometti and Francis Bacon. More than a decade of research has also bought to light her role in a rebel group at Liverpool School of Art, her secret role in wartime intelligence and the importance of her exceptional, unknown, late work. In 1953, she moved to Sudbury Cottage near Little Sampford and remained until her death in 1992, where her work was inspired by the wildlife and landscape, such as the bright yellow fields of canola. Bacon, Giacometti and many poets and musicians visited her there.
Dr Carol Jacobi has taught, curated, written and broadcast widely on 19th- and 20th-century art and is a Curator of British Art at Tate Britain. She has lectured and published on Isabel Rawsthorne and her circle for over a decade, including the award-winning "British Art in the Nuclear Age" and "Picasso's portraits of Isabel Rawsthorne" in the Burlington Magazine as well as Out of the Cage: The Art of Isabel Rawsthorne.
Thursday 9th September 2021 at 8:00 pm via Zoom
Memorial Lecture on Audley End
The Gibson Library Society held a special lecture in memory of the late Lizzie Sanders of Littlebury. An artist, writer and local historian, Lizzie was for many years secretary of the Gibson Library Society and an active supporter of the Library.
Audley End and its local, national and global connections - An illustrated talk by Andrew Hann
It is impossible to understand a country estate like Audley End without also studying its local context, those nearby communities that were intimately linked with the site over many centuries. This is something Lizzie Sanders clearly recognised, and her collected works provide a rich account of the people and places around Audley End and their evolution through time. In this paper Andrew explored some of these fascinating micro-histories through the lens of the various projects he has been involved with since joining English Heritage in 2007. He also looked to widen the focus, exploring Audley End's regional, national and global connections through looking at the people who lived and worked here, the collections accumulated in the house and gardens and the importance of the house as a site associated with significant moments in our history.
Dr Hann is head of the Historians team at English Heritage. He specialises in researching country houses and historic gardens, and also has an interest in contested heritage, material culture and working with volunteers. He leads on research collaborations with external partners and manages English Heritage's collaborative doctoral programme. Andrew has worked extensively on Audley End since joining English Heritage in 2007 and was the lead historian for the major projects in the service wing, stable yard and children's nursery. He has also supervised two PhD students working on different aspects of Audley End's history. Currently Andrew is working with colleagues on activities to commemorate the 80th anniversary of Polish SOE agents at Audley End in 2022, and on an initiative to enhance storytelling at the site.
Thursday 8th July 2021 at 8:00 pm via Zoom
Burning the Books
Richard Ovenden OBE
Richard Ovenden described the deliberate destruction of knowledge held in libraries and archives from ancient Alexandria to contemporary Sarajevo, from smashed Assyrian tablets in Iraq to the destroyed immigration documents of the United Kingdom's Windrush generation. He examined both the motivations for these acts - political, religious, and cultural - and the broader themes that shape this history. He also looked at attempts to prevent and mitigate attacks on knowledge, exploring the efforts of librarians and archivists to preserve information, often risking their own lives in the process.
Richard Ovenden is Bodley's Librarian (the senior Executive position of the Bodleian Libraries, University of Oxford) since 2014. Fellow, Society of Antiquaries and Royal Society of Arts; Member, American Philosophical Society; Treasurer, the Consortium of European Research Libraries; President, the Digital Preservation Coalition. Awarded the OBE by The Queen in 2019.
Thursday 17th June 2021 at 8:00 pm via Zoom
Book Wars: The Impact of the Digital Revolution on the Publishing Industry
John B. Thompson
How has the oldest of our media industries, the book publishing industry, been affected by the great technological revolution of our time? Other media industries, like music and newspapers, have been turned upside down by the digital revolution, as consumers choose to access content digitally and advertising revenues migrate to online platforms. Will the same thing happen to the book publishing industry? Is the story of the music industry the future of the book foretold?
John Thompson has studied the impact of the digital revolution on the book publishing industry for over a decade and he will provide a well-informed, surprising and counter-intuitive account of the disruption caused by the greatest challenge the book publishing industry has faced since Gutenberg.
John B. Thompson is Emeritus Professor of Sociology at the University of Cambridge and Fellow of Jesus College, Cambridge. His many books include Books in the Digital Age (2005), Merchants of Culture (2010) and Book Wars (2021).