OVERVIEW
The Local Studies collection is one of the great strengths of Gibson Library, and therefore an excellent resource for those studying local and family history. The collection has been built up since the mid-19th century, when the Literary & Scientific Institution was patronised by the great and good of the town and neighbourhood. Since that time much valuable historical material has been deposited in the Gibson Library by local people worried that it might otherwise be lost. The result is a unique and wide-ranging collection which covers not only the basic resources of the local and family historian, but also offers a number of unusual books, articles and primary manuscripts that would normally only be found in specialist libraries.
For those more interested in the history of particular themes, the collection of box files would be worth checking. These cover not only individual places, but also subjects such as crime, education, archaeology, churches and so on. Within each box are originals or copies of news cuttings, printed articles and ephemera which can all be photocopied if desired. Among them are two box files crammed with material on the genealogy of local families, much of it donated by family historians.
The Subject Box Files as at August 2021 are listed here.
PHOTOGRAPHS
Some additional local sources of particular use to family historians include the Saffron Walden deeds, Essex wills, monumental inscriptions, electoral lists, directories and year books and of course a huge collection of thousands of photographs, many of them by local photographers of note such as David Campbell and Edwin Smith. A particularly interesting compilation will be found in the five Stacey albums, which also include innumerable cuttings, illustrations, notes and ephemera collected by the late town clerk and historian of Saffron Walden, Mr H. C. (Cliff) Stacey. These fascinating and very personal volumes supply much incidental information on Saffron Walden, not easily found elsewhere and are probably the most popular items in the Gibson Library.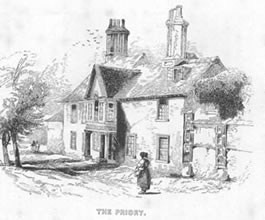 The Priory, Saffron Walden. Illustration reproduced from John Player, Sketches of Saffron Walden and its Vicinity (1845)
ORIGINAL MANUSCRIPTS
Over the decades, the Gibson Library has also acquired a number of original manuscripts of great interest to the local historian: there is a day book dated 1814-15 kept by Day Green shopkeepers, the 1812-25 minutes of the Saffron Walden Auxiliary Bible Society, some 1870s records of the Saffron Walden Horticultural Society, a notebook belonging to local doctor Henry Steer in 1883, and the records of the Clavering Book Society which began in 1788. The 1758 Field Book of Walden is one of the particular treasures, although it needs to be related to maps kept elsewhere. But the Gibson Library does also possess quite a number of maps, including large-scale 19th century and early 20th century editions of the Ordnance Survey maps of local areas.
CONCLUSION
With the addition of almost every published book on the town and villages, unpublished doctoral theses and students' essays and some useful CD-ROMs of historical data, the Gibson Library should be every historian's first port-of-call.
Jacqueline Cooper
(Jacqueline Cooper is the author of several books, including The Well-Ordered Town: a Story of Saffron Walden, Essex, 1792-1862 (2000).)
INDEX TO LOCAL HISTORY MATERIALS
Those who have never visited before, and who know which place they are studying, could start with the red file entitled 'Index to Materials' which is constantly updated with every item acquired relating to Saffron Walden and over 40 villages of north-west Essex. There is a separate section dealing with each place, starting with the general sources such as Victoria County History of Essex, Morant's 18th century History & Antiquities of the County of Essex, the Royal Commission on Historical Monuments survey, the Domesday Book entry, Pevsner's book on notable buildings, P.H. Reaney's Place Names of Essex and other key sources. The listing then continues with items relating to that particular place, such as articles in books or in the Essex Review, Essex Journal, the Saffron Walden Historical Journal, Transactions of the Essex Archaeological Society and other journals. At the back of this file can be found an alphabetical list of items relating to the notable people associated with the district, such as Edward Bawden, 'Rab' Butler, Oliver Cromwell, Gabriel Harvey, Gustav Holst, Dick Turpin and so on.
MICROFORMS
Indeed family historians will find the Gibson Library invaluable in many ways. The resources include all the standard references on microfilm or fiche: the International Genealogical Index, parish registers and census returns: an unusual addition is the listing of the 1811 census of Saffron Walden. Among the microfilms also are the Board of Guardians minutes from 1887-1940 and some local newspapers: the Essex Standard from 1831-1890, the Saffron Walden Weekly News from 1889 and the Herts & Essex Observer from 1939.
ANTIQUARIAN BOOKS
The wealth of material does not end here, however. Within the locked cabinets of the Gibson Library will be found not only complete runs of many periodicals, but also an amazing and little-known assemblage of antiquarian books belonging to Saffron Walden Museum, many of them on local history subjects. They include such enticing titles as: A Short Sketch of the Life of Helen Winder, justifying and explaining her conduct, and exhibiting her enemies in their true colours, published in 1826 and offering insights into local society of that time. There are well-known works such as the transcript of the 1387 Cartulary of Walden Abbey, the original 1862 Flora of Essex by noted Walden botanist George Stacey Gibson, Gabriel Harvey's Marginalia and the 1825 version of Pepys' Diary rescued from obscurity by Lord Braybrooke. Lord Braybrooke's own 1836 History of Audley End is represented by several copies, one of which is full of insertions and extra information. Likewise John Player's charming Sketches of Saffron Walden & Vicinity, published in 1845, and which contains his own annotations, identifying some of the characters described. William Winstanley was the local author of the many Poor Robin almanacs which were enormously popular in the 18th century and of which the Gibson Library has a good collection.
THE HISTORY OF SAFFRON WALDEN
The following works provide a good introduction to the history of Saffron Walden:
SR Bassett, Saffron Walden: Excavations and Research, 1972-1980.
Chelmsford Archaeological Trust, 1982. (CBA Research Report: 45).
Anna Brooker and Mary Whiteman, Saffron Walden: Portrait of a Market Town.
CW Daniel, 1982.
Jacqueline Cooper, The Well-Ordered Town: a Story of Saffron Walden, Essex, 1792-1862.
Cooper Publications, 2000.
Martyn Everett and Howard Newman, Saffron Walden: A Pictorial History.
Phillimore, 1998.
Martyn Everett and Donald Stewart, The Buildings of Saffron Walden.
W Hart, 2003 [2004].
Jean Gumbrell, Voices of Saffron Walden and Surrounding Villages.
Chalford, 1998.
Jean Gumbrell, Down Your Street. (3 parts) Gumbrell, 1989-95.
Len Pole, Saffron Walden in Old Photographs.
Sutton Publishing, 1997.
CB Rowntree, Saffron Walden: Then and Now.
Hart, 1951.
HC Stacey, Saffron Walden in Old Photographs.
CW Daniel, 1980.
Malcolm White, Saffron Walden's History: A Chronological Compilation.
White, 1991.