History of the Town Library
Gibson's bank building, described by Pevsner as 'an original, self-certain Neo-Tudor design', was built in 1874 by Eden Nesfield, and is now Barclays' branch in Saffron Walden, salient on the east side of the Market Place opposite the library. Gibson was a generous benefactor to many local institutions and private charities, and the tireless incumbent of many civic offices.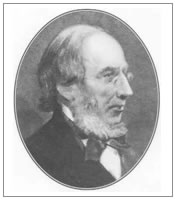 George Stacey Gibson
his small, plain-spoken and unobtrusive man also (in the words of an obituarist) 'evinced to the last his deep
sympathy with the multiform progress of knowledge'. Keenly interested in the nascent arts of photography and electric lighting, the promoter of the railway between Saffron Walden and Audley End, Gibson was best known among scientists for his talents as a botanist; he added fifteen species to the known flora of Essex and several to those of the British Isles, and his Flora of Essex; or a List of the Flowering Plants and Ferns found in the County of Essex (1862) was a striking advance on earlier county floras. A singularly attractive volume, it now adorns the Town Library, like so many books from Gibson's own shelves; the library has an enlarged and interleaved copy with additional hand-coloured plates, and also Gibson's less sumptuous working copy, with his annotations.
The library also possesses in their original mahogany bookcases Gibson's own working collection of 1,000 volumes on natural history, which make its holdings in this field the most important in the Eastern Counties outside the Cambridge University libraries; it also continues the subscription to the Botanical Magazine which Gibson began, and the Town Library's set of this essential journal is therefore nearly complete. It possesses a set of the Botanical Register too.

&nbsp &nbsp &nbsp &nbsp &nbsp &nbsp &nbsp &nbsp &nbsp &nbsp &nbsp